Lunar power is gentle and deep. Active and passive. Restorative and transformative. When you align yourself with it, you align with a deep, primal knowledge that leads you on a journey of personal discovery.
LUNAR ALCHEMY ACTS AS A GUIDE FOR THIS JOURNEY THROUGH THE MOON CYCLE, HELPING YOU CO-CREATE A MEANINGFUL SHIFT WITHIN 28 DAYS.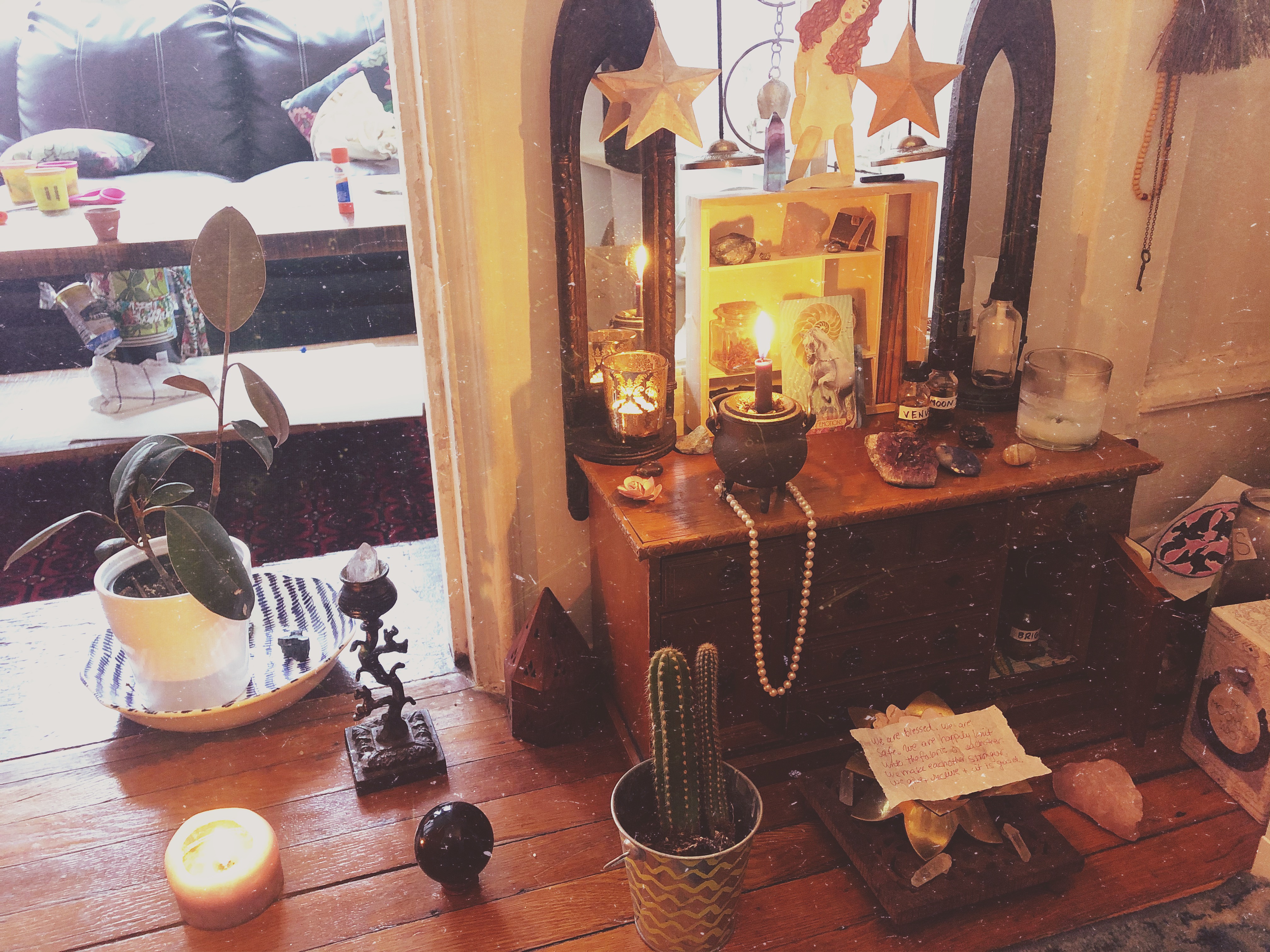 AS YOU TAKE THIS JOURNEY, YOU WILL…
~ Engage in mystical practices to access subconscious knowledge.
~ Alchemize subconscious knowledge into powerful psycho-spiritual shifts.
~ Heal the wounds that are keeping you from doing the cosmic dance in the way that feels best.
~ Discover how you can support your spiritual evolution by consistently engaging with this cycle.
~ Travel with me! I'll be sharing my tarot readings, astral journeys, journal responses, and rituals to show you what it looks like to move through this process in real time.
Your course has been amazing! It's helped me reflect on this past year and look forward. It resonates so strongly with me and provides a truly useful, practical way to structure the cycle. Your willingness to share your experience and process provides a depth to the material that's both awesome and unique.

~Jen Pearson, Lunar Alchemy student
WHY SHOULD YOU LEARN FROM ME?
~ I've been creating shifts and healing shadows with the moon phases for over six years.

~ I've led hundreds of beautiful people in ritual and spellcraft as leader of the WISE ONES coven.

~ I'm down to earth and I make complex ideas accessible.

~ My courses represent the distillation of my research, experimentation, exploration, and experience–I don't share or recommend anything that hasn't worked for me!
HOW WILL YOU LEARN THROUGH THIS COURSE?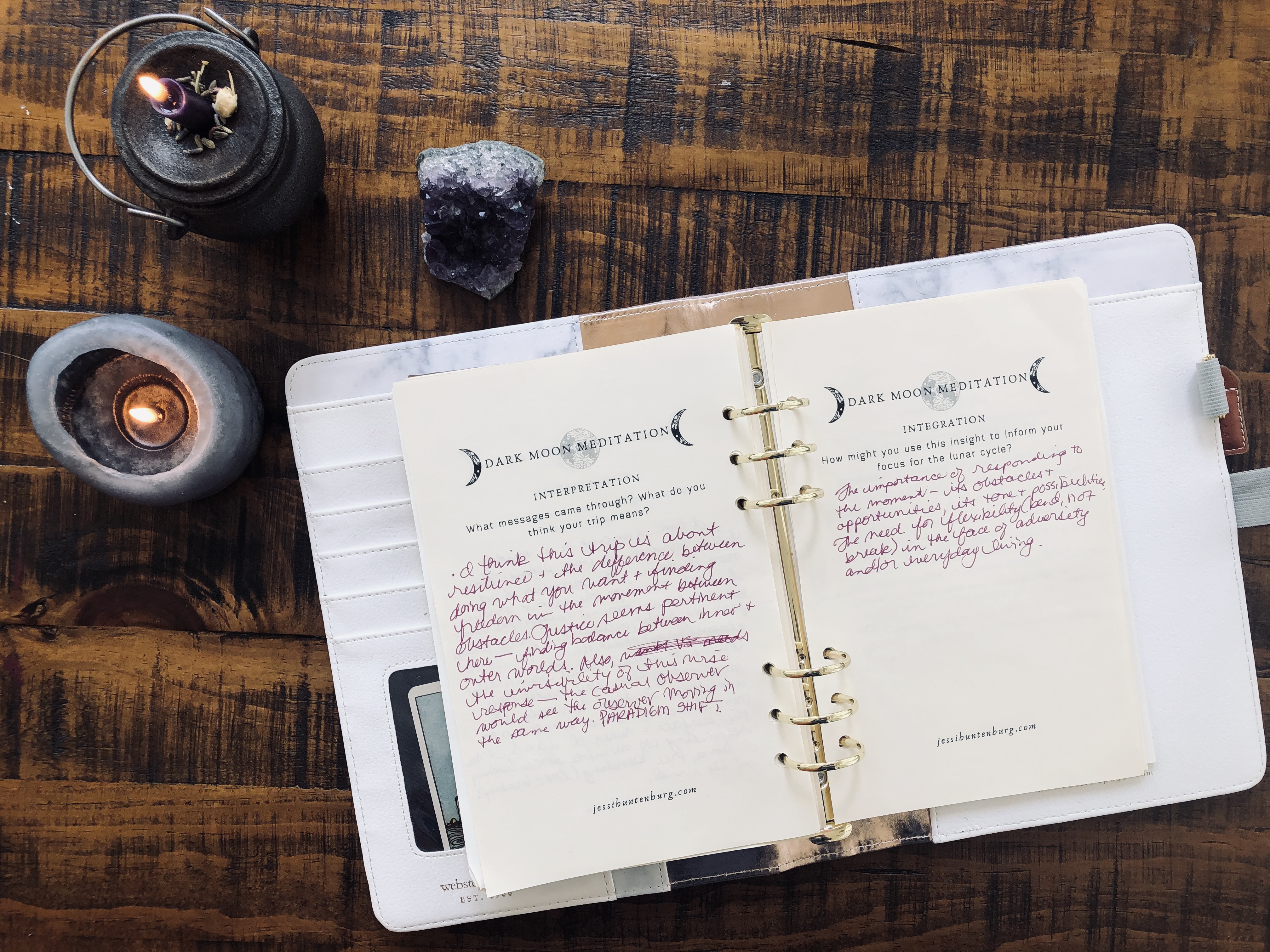 Lunar Alchemy offers lessons that correspond with the following moon phases:
~ Dark/Balsamic Moon
~ New Moon
~ Waxing Moon
~ Full Moon
~ Waning Moon
I teach you through videos, and you apply what you learn through…
~ Guided Meditations
~ Journal Questions
~ Worksheets
~ Ritual work
~ Tarot/Oracle Spreads
~ Visual Art Projects
WHAT WILL THIS COURSE HELP YOU DO?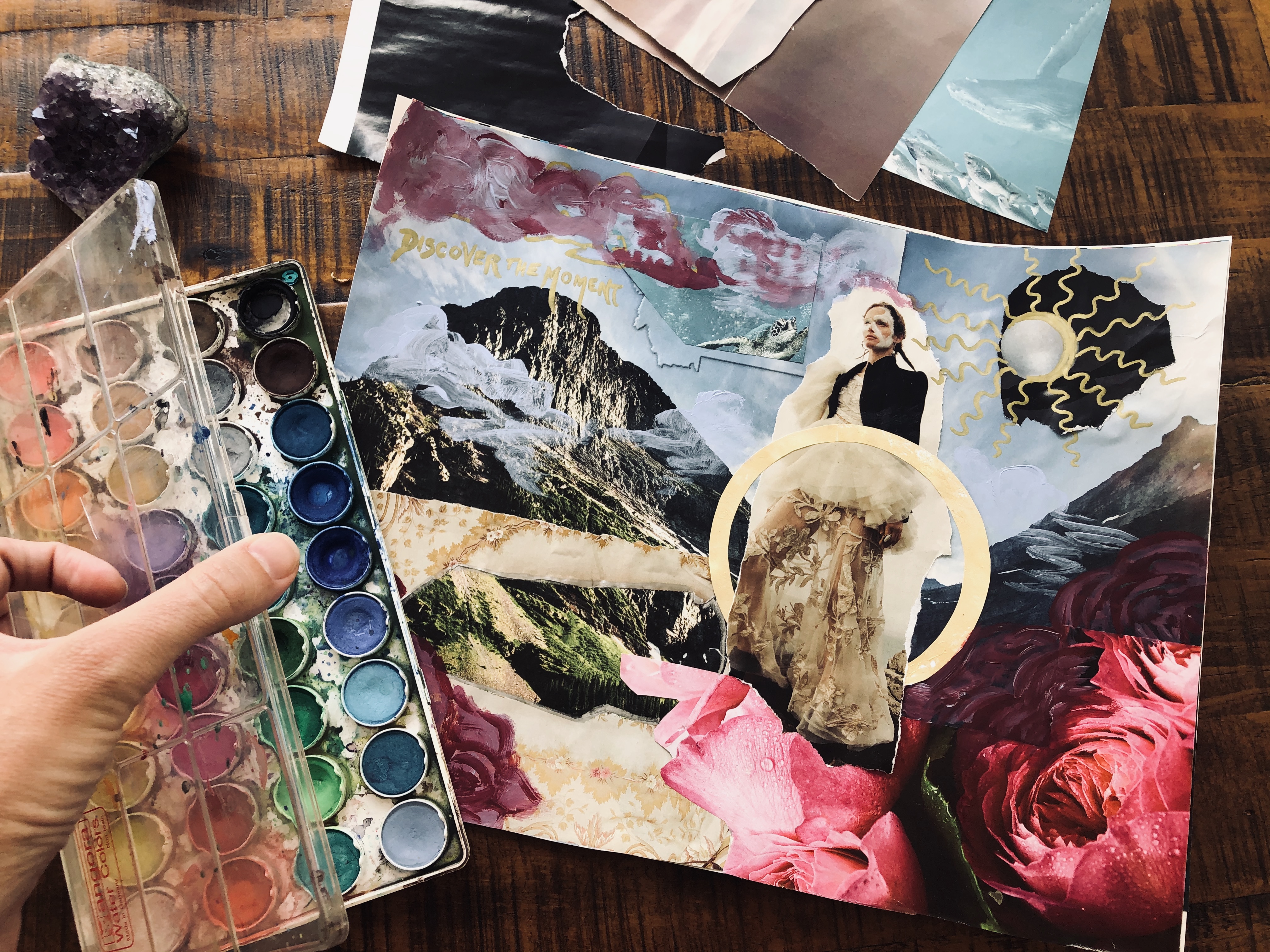 ~ Pinpoint shadow-desired shifts through divination, guided meditation, and engaged reflection
~ Activate these shifts through diverse acts of focused engagement and creativity
~ Hold space for light and shadow and work with these concepts to promote self-actualization
~ Work with liminal lunar phases (dark, waxing, waning) to build momentum for these changes
~ Attune to a cyclical rhythm that promotes inner and outer balance and harmony
~ Feel balanced, purposeful, and connected
~ Develop a visceral awareness of the cycle of creation and destruction to support spiritual evolution
COURSE CURRICULUM
Lunar Alchemy Introduction
VIDEO | How to Get the Most From this Course
Working With the Dark Moon
PDF | Lunar Cycle Spread
VIDEO | Dark Moon Divination
VIDEO | How to Craft an Awesome Card Reading
VIDEO | Guided Meditation Preparation
AUDIO | Five Guided Meditation Journeys
PDF | Guided Meditation Reflection
VIDEO | My Dark Moon Journey
Working With the New Moon
PDF | New Moon: Creating Shifts
VIDEO | New Moon: Creating Shifts
VIDEO | New "Mood" Board
PDF | New "Mood" Board
VIDEO | My New Moon Ritual Demonstration
Working With the Waxing Moon
VIDEO | Feel and See the Shift
VIDEO | Plan the Shift
PDF | WISE ONES Spiritual + Magickal Planner
VIDEO | Summon Your Guides
VIDEO | Inside/Out (Glamour Magick)
PDF | Inside/Out Glamour Exercise
VIDEO | Be the Mood You Want to See in the World
PDF | Be the Mood Journal Questions
Working With the Full Moon
VIDEO | My Full Moon Ritual Demonstration
Working With the Waning Moon
VIDEO | Self-Love Mantras + Affirmations
PDF | Self-Love Mantras + Affirmations
VIDEO | Self-Care Practices
VIDEO | Shadow Journaling
PDF | Shadow Work Journaling Questions
VIDEO | Speaking Words of Forgiveness
YOU'RE GOING TO DO RITUAL. YOU'RE GOING TO GO ON WALKS. YOU'RE GOING TO MAKE ART. YOU'RE GOING TO TAKE RISKS. YOU'RE GOING TO BREATHE AND GIVE THANKS AND FORGIVE.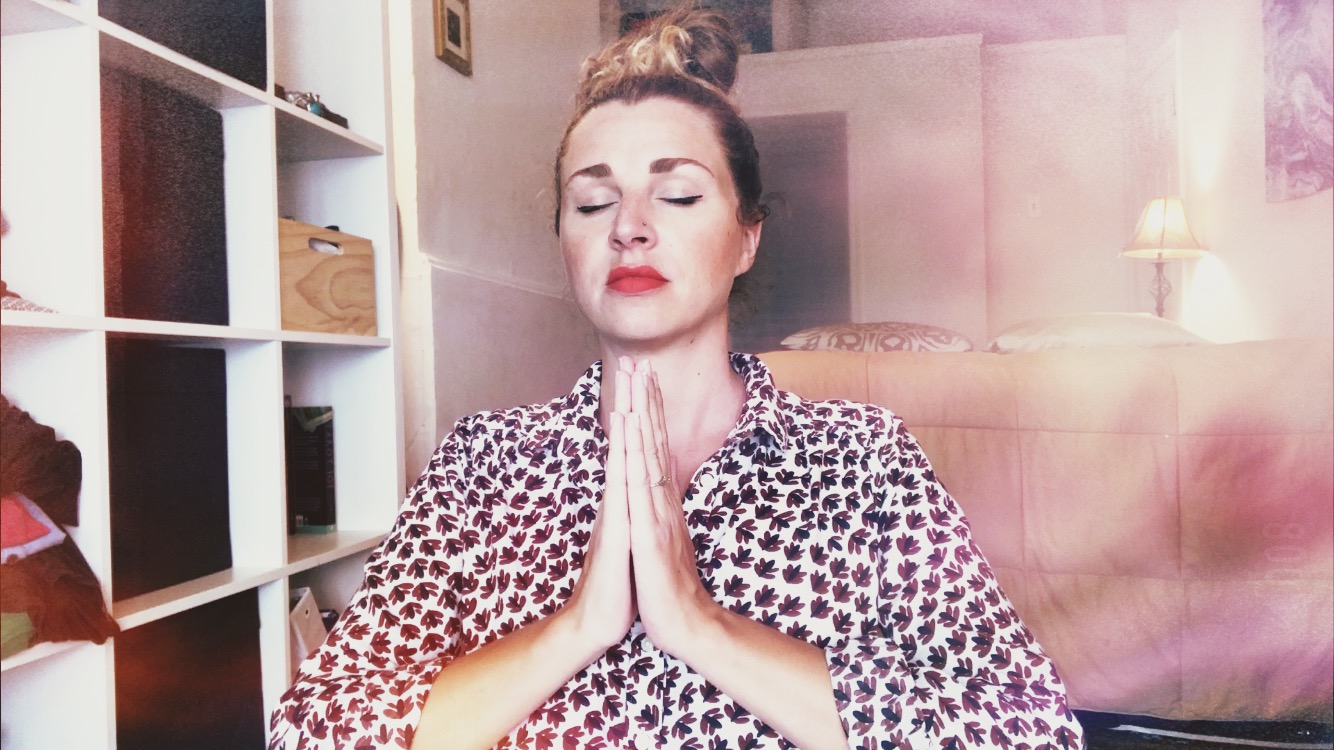 HOW IS THIS COURSE DIFFERENT FROM THE SPELL BOUND COURSE?
~Whereas Spell Bound teaches an approach to magick, Lunar Alchemy teaches an approach to spiritual transformation.
~ While Spell Bound encourages the manifestation of conscious desires, Lunar Alchemy encourages the manifestation of subconscious longings/needs.
~ Lunar Alchemy encourages and supports accessing the intuition/collective consciousness/shadow more directly.
~Spell Bound is (necessarily) direct and formulaic. Lunar Alchemy is more flexible and fluid.
~Lunar Alchemy provides more demonstrations, examples, and insight into my personal process.
HOW IS THIS COURSE DIFFERENT THAN OTHER COURSES THAT FOCUS ON THE MOON PHASES?
~ Lunar Alchemy does not rely on or incorporate astrological correspondences
~ Lunar Alchemy does not follow the classic "manifestation/release" structure; it follows a "co-creation/healing" structure
~ Lunar Alchemy encourages you to go deeper–into the psyche, into the self.
~ While Lunar Alchemy encourages a deep connection with the moon, it does not require that you personify it. You do not have to see the moon as a goddess or a mother to facilitate this connection.
LUNAR ALCHEMY IS OPEN FOR ENROLLMENT!
Registration closes on June 18, 2020–enroll today!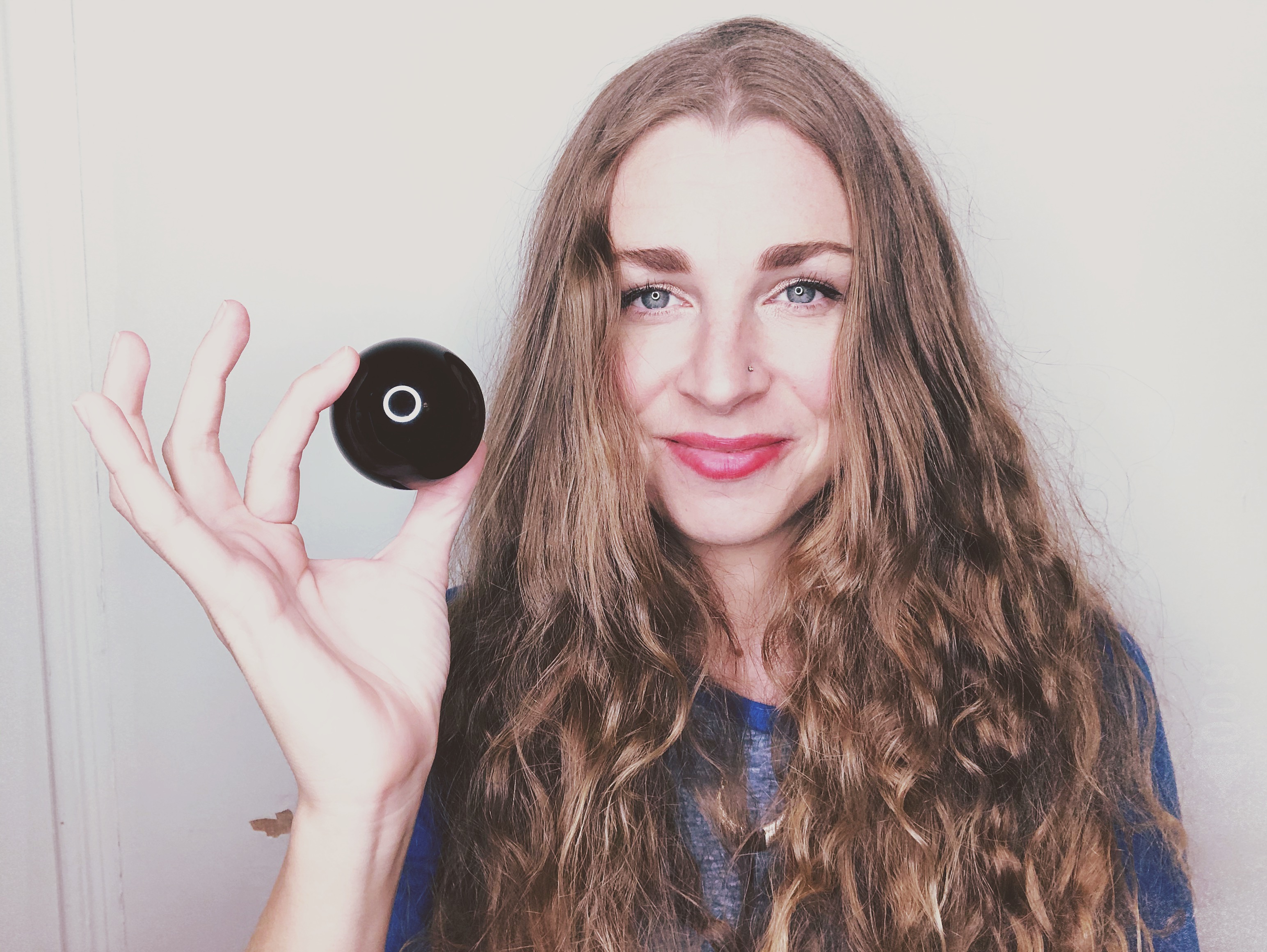 Hello, Beauty! I'm Jessi!
I believe that magick and spiritual practice are gateways to passion, purpose, joy, and healing.
My offerings are designed to guide and support you as you navigate your spiritual journey and take the steps you need to take to live the life you're meant to live.
Over the past four years, I've helped thousands of beautiful people connect with their magick through free content, one-on-one services, and spiritual resources. Through Spell Bound, I want to help you do the same.
Let's Create a Magickal Life Together!